Ref:
Date:
Location:
Photographer:
Ref:
Date:
Location:
Photographer:
Ch. Marksbury Wistful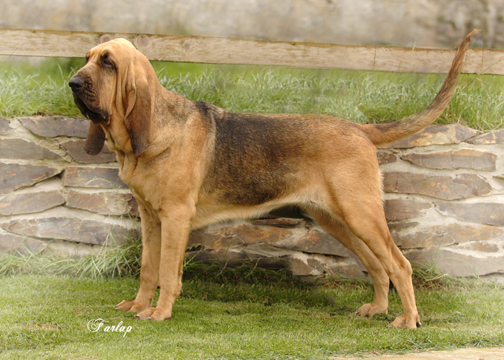 Ch. Marksbury Wistful 25 CC's

Sire: Ch. Marksbury Thankful at FarlapShCM
Dam: Marksbury Lyrical
Wistful holds the UK Bitch CC record.
andl has now gained 26 CC's 22 with BOB
Two group wins at ch shows, Crufts and LKA 2007
BIS at the ABB ch show twice
BIS at the Bloodhound club ch show
Wistful started her show career at 6 months with a Res CC at her first show and then the CC a few days later , she became a Champion at 14 months and to date has 26 CC's, 22 with BOB.
Wistful was the top Bloodhound in 2005, 2006, 2007 and 2008
She had the bitch ticket and BOB at 12 months of age at Crufts 2005 under Zena Thorn Andrews and at the Bloodhound Club Ch show under Lily Ickeringill the same year took the bitch CC and Best in Show.
At Crufts 2007 Wistful was BOB at Crufts and won the Hound Group under Dagmar Pordham Kenis, only the 2nd time a bloodhound has won the hound group at Crufts.
At LKA December 2007 she won the Hound group.
Wistful has a full work permit